BRAZIL IMMERSION YOGA RETREAT 2016
"Hidden Brazil Where Time Stops"
December 3 - 12, 2016 Summertime in Brazil!
From Mountain to the Ocean Da montanha para o oceano
A Sacred & Adventurous Yoga Retreat designed to bring you to the Verge of your Limits and into the place of your Sacred Nature. The name says it all, Aventureiro; the adventure is also the location of an isolated cove of Ilha Grande. Boating, indoor or outdoor beach living, surfing, bouldering, slack lining, swimming and ocean sunrises all prove the pristine beauty.
Brazil's lesser known beaches and the fresh air of the mountains provide tranquility to enjoy the natural and cultural splendor of Brazil. Start the journey in Rio de Janeiro up in the mountains of Tijuca Forest where Corcovado stands atop and boat to Ilha Grande for stunning island landscapes. Explore this tropical paradise with optional activities on this Yoga Retreat -guided and self-discovery that will feed your Soul.
Highlights:
Small group, Intimate setting
Twice Daily: morning and evening Yogic and Daoist practices
Visit the world famous Cidade Maravilhosa: Rio de Janeiro
Explore the tropical and remote beach island paradise of Aventureiro, Ilha Grande
2 Guided Day Hikes to get to know your body and the land
Plenty of time to Rest and Rejuvenate
9 nights Accommodation
10 days with Yogic guide
Brazilian Portuguese, English and Spanish spoken
Yoga On the Verge
Enjoy a wellness adventure to take you places you never knew existed and experience things you never knew possible by visiting the pristine Ilha Grande to calm the mind, challenge the body and inspire any ocean lover with daily Beach Yoga, Yogic and Daoist Practices and and for all levels.
"I want to take people where they would never go, support people to do things they thought they never could." Simplicity Love
Yogic and Daoist Practices
There will be 2 daily classes, Energizing Yogic mornings and Calming Xigong afternoons, with room to Practice and seek guidance on posture, breath, wellness and philosophy. The morning yoga classes are a mixture of Hatha, Vinyasa flow and Ashtanga beginning with alchemical sunrise meditations and finishing with deep relaxations. Here you are guided to go beyond patterned limitations and drop into your Sacred Nature. The classes vary based on the group dynamics and are adjusted to the level of each student. Beginners to Advanced are welcome. The deeper you go, The deeper we go.
Late Afternoon when the sun calms and nature's influences are more peaceful, we will do Longevity Practices of *Qigong. We will balance and tonify our Organs with breath, light and naturally occurring elements of the island. The Meridians and Spiritual Centers will be Radiant as is The Land.
**Qigong is an ancient Chinese wellness system that integrates physical postures, breathing techniques and focused intention. Qi is usually translated to mean the life force or vital-energy that flows through all things in the universe. Gong means skill that is cultivated through steady practice. Together, Qigong means cultivating energy, it is a system practiced for health maintenance, healing and increasing vitality.
Retreat Itinerary:
Day 1 : Arrive Morning in Rio de Janeiro, check into Hotel nestled on the Corcovado Mountain with views of world famous Cidade Maravilhosa including the Christ Statue. Relax, take it ALL IN. Welcome Dinner at Restaurant and Connect with your Travel Friends.
Day 2 : Morning Yoga. Breakfast. Hike from our Hotel in the Tijuca Forest up to the top of the Corcovado Mountain, 2300 feet, to witness Christ the Redeemer standing 100 feet tall. Yogic and Daoist Practices. Leisure walk to eat lunch out and a tour of the city for dinner at a delicious restaurant.
Day 3 : After Breakfast from the hotel in Rio de Janeiro, we will drive a few hours to the port of Angra dos Reis. There a boat will finish our day journey to arrive at a pristine and remote beach called Aventureiro, located on the island of Ilha Grande. Check into quaint and rooms and soak up the simplistic paradisaical surroundings of island living, your new home for 5 days!
Days 4 - 8 : Five LONG Summer days starting with sunrise meditations, Yoga, breakfast, rest, free time to hammock, swim, hike, surf, journal…, lunch, afternoon Xigongs, dinner, dancing.
Days 9 : Return to Angra by boat. Breakfast. Travel by vehicle to Copacabana, Lunch Celebration at Restaurant. Taxi back to Hotel up to the cool Mountains.
Day 10 : Morning Yoga. Breakfast. Check out of hotel. Sightseeing in group or on your own. Taxi to airport.
Location
The Adventurous Retreat begins and ends in Rio de Janeiro and is home to some of the world's most famous sites. With its plentiful beaches, dramatic mountains, and backdrop of samba and bossa nova rhythms, it's easy to fall in love with Rio de Janeiro. Made famous in song, Ipanema Beach is still the place to stroll, sunbathe, and be seen. The largest Art Deco statue in the world, Christ the Redeemer, beckons visitors to Corcovado Mountain. Take time to explore the famous Copacabana beach or just simply take in the breathtaking views of the Christ the Redeemer statue and the Sugar Loaf Mountain.
Ilha Grande is a tropical island paradise with gorgeous views in all directions. Aventureiro beach is in the southwest of Ilha Grande and lies completely protected as a Preserve that ensures the continuation of its natural and cultural heritage. The landscape is rich in original beauty, ranging from mountain-shaped amphitheater, passing by lookouts and beaches with transparent waters. Its name makes sense because adventurer is the least we can call those who can get there. A perfect location for one of the best undiscovered beaches in the world. Here time stands still.
You will learn how the island looks breathes like a Dragon. We will discover more evidence of this on our adventure!
Enjoy your time here and allow your senses to relax and tune into the rhythms of the forest, fresh ocean air and your own body rhythms on this tropical island getaway.
Accommodation:
Accommodation in Rio de Janeiro is a locally operated Home 'pousada', which is selected for its quality, originality and compatibility of ecological and sustainable travel. Both Local Brazilians and Travelers From Afar will enjoy this absolutely fabulous chalet. So private and beautiful are the surroundings, the High Tijuca Forest creates a Haven for a very green, lush and bird-filled sanctuary; perfect to start and finish our Retreat. The rooms are very private, some stand alone like a Bungalow in the garden or attached to the Main Home for true comfort.
Click On Photos to View Photo Gallery of Accomodations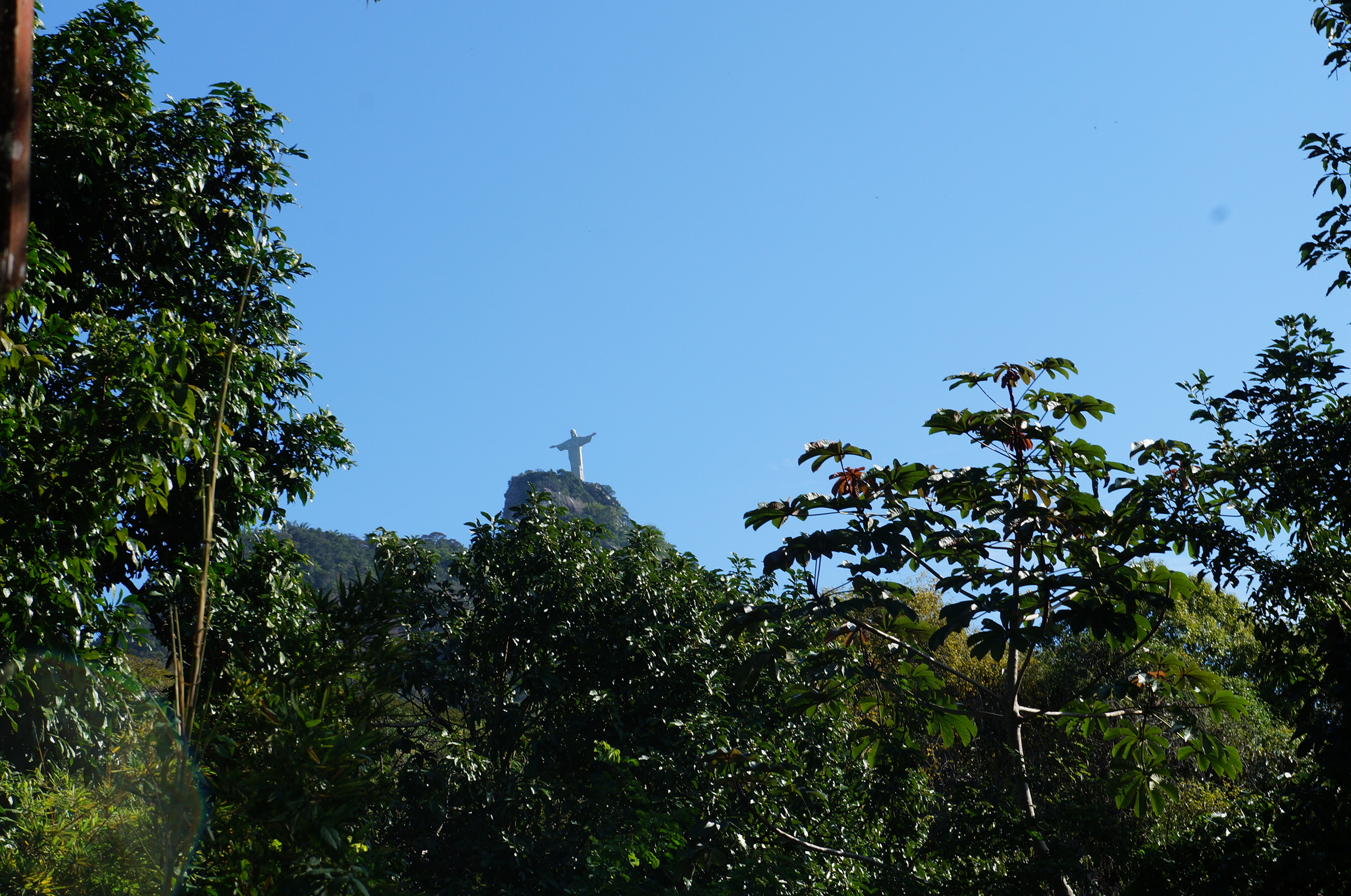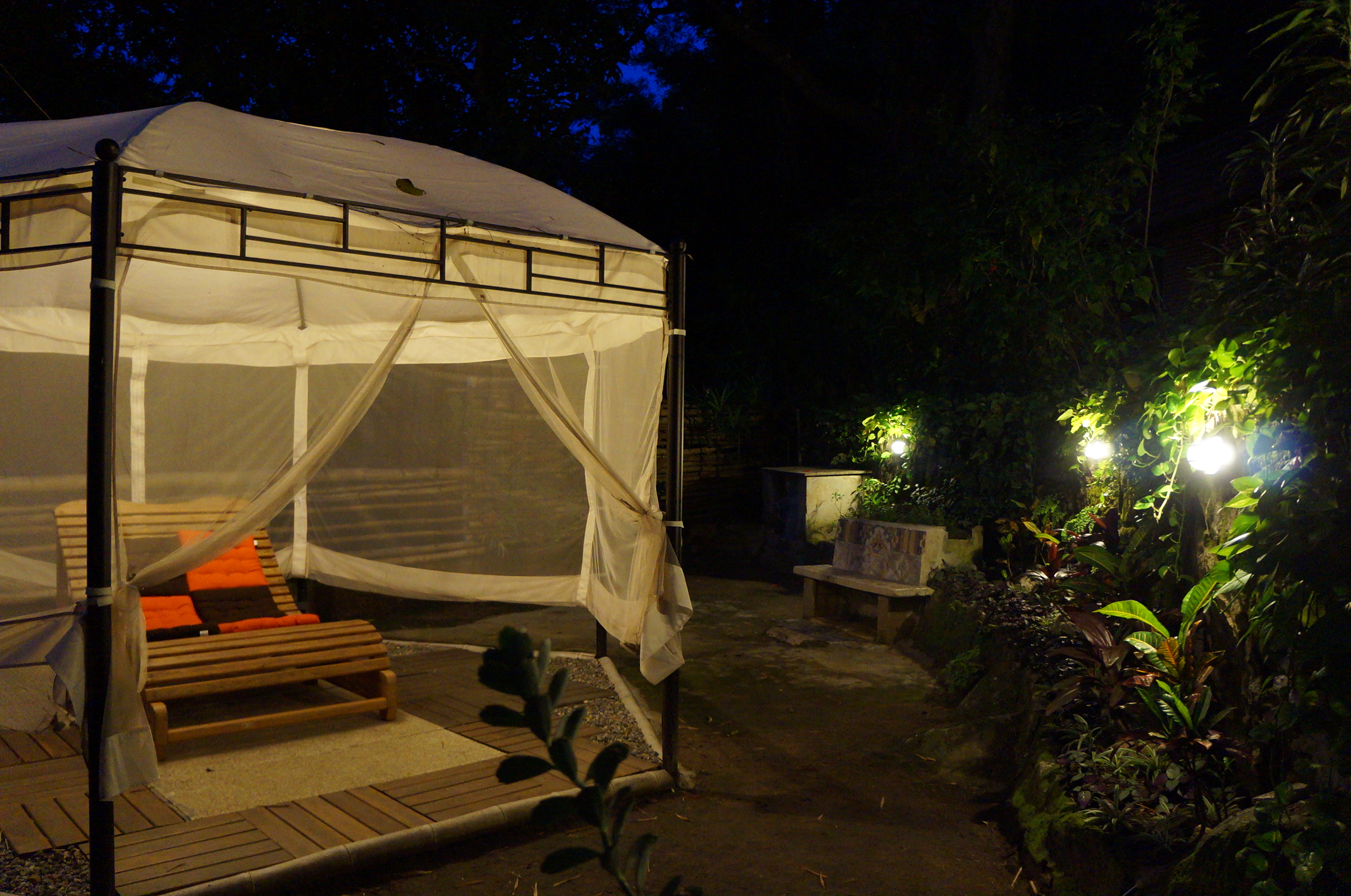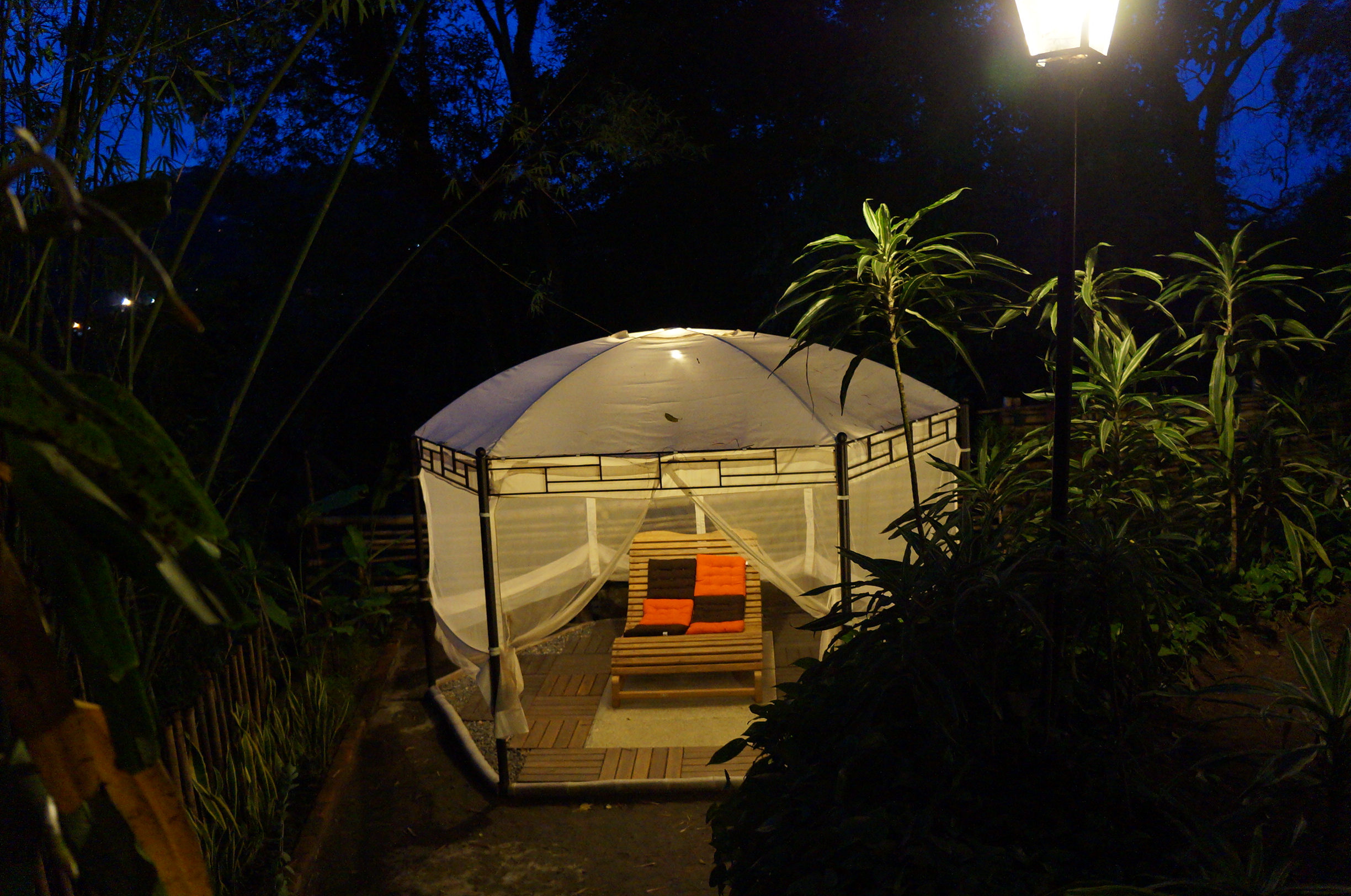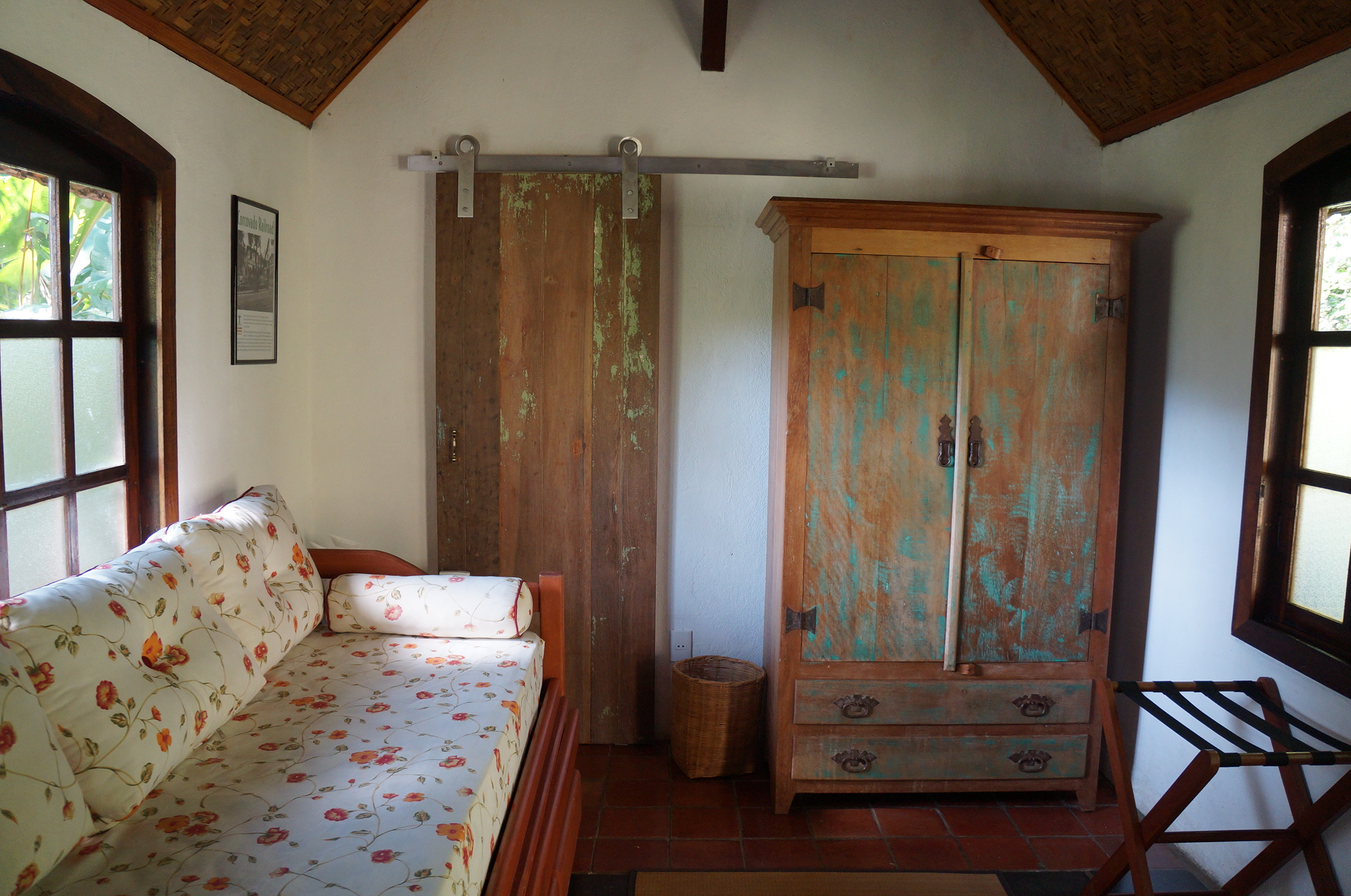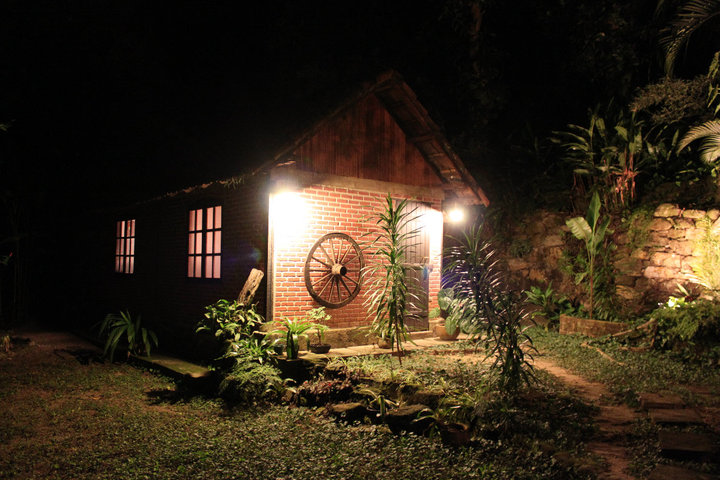 Accomodation in Ilha Grande is with a local fisherman and his family. Our Stay right off the beach provides camping and simple rooms with private bathrooms for the hardy adventurer. The entire island is remote: no cars, no stores, no hotels, no public phones, no banks or ATMS, a generator for light in the evening. Wifi is available a short walk away. This is the ultimate secluded tropical paradise with no modern distractions but a ocean sunrise just 30 steps from your room.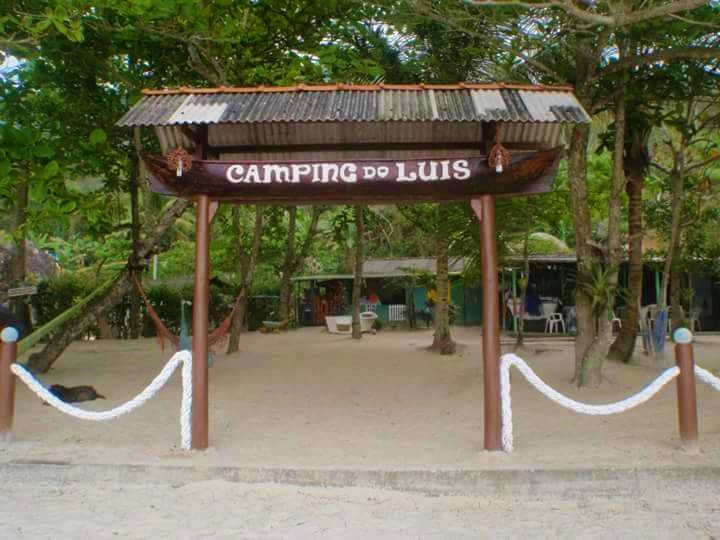 Accommodation is on a twin share basis. If you are traveling alone, you will be paired with another same gender traveler. A single room option is available at an additional fee.
Food:
Breakfasts, Dinners and most Lunches (snacks if travelling) are included on the Yoga on the Verge Retreat with vegetarian and non-vegetarian options. The healthy meals encourage wellness for a healthy body and mind on the Adventure. The meals include fresh fruits, vegetables and locally sourced fish and are created to be flavorful and often adventurous like the Yoga Retreat. When in Rio de Janeiro expect to have some thrills and delights from the menu including fresh juices, delicious entrees and desserts for full enjoyment of your dining experience! In Aventureiro we eat at our accommodation cafe for simple breakfast of eggs and toast. The same menu is offered at Lunch and Dinner, consisting of fresh fish, salad and potatoes or rice and beans. Simple and delicious living here with Real Brazilian culinary foods.
Daily Schedule in Aventureiro
***All Activities are Optional
5:45am Morning Sunrise Practice and Meditation
6:30am Yoga 8am Breakfast Relax and Rejuvenate
11:00am Free time to swim, hike, boulder, slackline, journal, Açaí snack
3pm Lunch Hammock rest
5:30pm Energy Cultivation Practices
7:30pm Dinner
Free time
Dance
Bed
Retreat Cost:
Please pay cash, USA check or PayPal Friends and Family option only (divinemother@sbcglobal.net)
A 4% international fee will be added for Paypal transactions.
Total 10 Days Retreat Trip: US $2544.00
Payments:
Due September 22: $300 Deposit (non-refundable)
Due October 15, 1st installment: $748
Due November 1, 2nd installment: $748
Due November 15: Final installment: $748
Meet the Staff:
Simplicity Love is a world traveling, jungle living yogini and wandering Daoist inspired to teach others how to live in a Conscious state of Choice through Freedom Practices she has developed from her inner and outer adventures. Combining her gifts of meditation, devotion, and spiritual study with her love of travel and adventure, Simplicity Love created Yoga on the Verge as a platform to share with others the tools, methods and philosophy she has honed to live an aware, vibrant and free life. Working with all levels from beginner to advanced, Simplicity Love's classes include unique sequencing, standard & non-traditional breath work, humor and hands on adjustments with an overall focus on Awakened Reality. Her classes retain the spiritual component of yoga that is often compromised in yoga classrooms, making real life connections though one's own breath, body, emotions, mind and spirit through the activities in the class. Coming from the remote island of Kauai she interacts with all through Aloha Spirit.
Frederico Rosa was born in Minas Gerais and lived in Rio de Janeiro for 22 years. He moved to the Hawaiian Islands to Surf 14 years ago and now lives on the island of Kauai. Frederico is devoted to his Ashtanga Mysore Yoga Practice, Vipassana Meditation, Preservation of the Earth and is the Loving partner of Simplicity Love.
Together Simplicity and Fred make every aspect of your retreat as flowing and delightful as possible, during our daily practice as well as when settling in our accommodations and discovering our surroundings.
What's Included:
Adventure Leader and Yoga Guide Simplicity Love
Morning Yoga Classes and Afternoon Xigong Practices
Morning Sun Gazing Practices
Accommodations in Rio de Janeiro and Ilha Grande, shared living
Arrival and Departure to Airport
All Meals (3 a day) with vegetarian and non-vegetarian Fish options
Daily Açaí snack in Ilha Grande
Local transportation including round trip transportation to and from GIG International Airport
Boat to Ilha Grande, round trip
Interpreting in English/Portuguese/Spanish by Frederico Rosa
Day Hikes
Hammock Time
Meditations
Yogic Philosophy Q & A
What's Not Included:
International airfare
Visa fees (if required, depending on your nationality)
Surf boards rentals and lessons
Private boat tour
Parasailing
Single rooms
Know before you go:
Group size
This is an intimate group: A minimum of 4 people required with a maximum of 10.
Course information
The yoga classes, practices and hikes are designed for all levels. Beginners are encouraged and Advanced Practitioners are welcome! Please note that you are required to bring your own yoga mat for the retreat.
Accommodation request
Accommodation is based on double occupancy in Ilha Grande and depending on attendance could have 2 or 3 people sharing a room in Rio de Janeiro. Single rooms are available in Ilha Grande upon request, at an additional cost.
Passport / Visa
Visa requirements are dependent on your nationality and are the responsibility of the traveler. Please check your country's requirements, applications for visas are at the Brazilian consulate or embassy or through the use of the services of a travel agent or visa processing agency. You must have a passport valid for six months after your arrival date to be permitted entry into Brazil.
Vaccination
You are recommended to seek the consultation of a qualified medical practitioner and travel clinic for the latest information on health and vaccinations needed prior to your travel to Brazil.
Additional information
For more information please click http://www.yogaontheverge.com/. Or, ask your questions directly to Simplicity Love, Creator of Yoga on the Verge Retreats who will be happy to assist you! SimplicityLoveYoga@gmail.com (Note, Simplicity is traveling September 1 - October 25 in China)
How to get there
Arrival by airplane
The Adventure begins and ends in Rio de Janeiro. There are two airports in Rio de Janeiro. The international airport is Galeao - Antonio Carlos Jobim (GIG) in Brazil, and the airport close to the city center for national arrivals is Santos Dumont (SDU).
If you are driving locally, please meet us at our Pousada in Rio de Janeiro. Or feel free to make special arrangements with the staff.
SUPPLY LIST
RIO DE JANEIRO
3 Days versatile clothing for yoga, hiking, shopping, restaurants


ILHA GRANDE
Brazil voltage outlet
Day backpack
Yoga mat
Specialty food like personal sweetener and snacks
Small battery operated fan with clip (nighttime use)
Sarong
3 bathing suits
Beach wear including cover up
Sun screen
Mosquito spray (can also bring essential oils)
Anti-itch cream
Sun glasses
Sun hat with string
Small mirror for personal use
Flip flops
Long shorts/pants for hike or use sarong
Ear plugs
Hand Towel for Yoga
Eye cover
Pillow for simple room
Small duffle bag to carry personal items from boat across beach to room (can use day backpack, and some extra bags)
Fresh clothes for Lunch in Copacabana


Optional:
Swim goggles
If surfing bring rash guard or long sleeve shirt
Visor to play soccer, volleyball, slack line